For All Your Phone System Needs
Samsung Falcon Telephones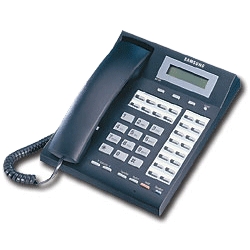 Samsung Falcon Telephones
have a variety of helpful features. While there are different types of Samsung Falcon Telephones, they all come with LED lights, volume controls that can be used while the phone is in use, different rings tones, and they can be placed on desks or mounted on walls. They all also have a 32 character display screen, built in speaker and microphone, and different ring tones as well as standard hold keys and answer/release keys. Samsung Falcon Telephones can also be purchased in Light or Dark Grey.
There are three main types of Samsung Falcon Telephones: the 8 button, 18 button, and 28 button phone. Each of these types of phones come with standard features listed above such as programmable keys, volume control keys, a microphone, hold key, 32 character display, and a speaker. The main difference between these phones is the amount of programmable keys. The 8 button Falcon phone has 8 programmable keys, the 18 button Falcon phone has 18 programmable keys, and the 28 button Falcon phone has 28 programmable keys. All of these programmable keys have tri-colored LED lights, regardless of which type of phone they are a part of.
Samsung Falcon Telephones have remarkable clarity. The speakerphone feature found on Samsung Falcon Telephones is a full-duplex speaker. While a half-duplex speaker only allows sound to travel in one direction, a full-duplex speaker, such as the one found on Samsung Falcon Telephones, can transmit and receive sound at the same time. Full-duplex speaker phones also cancel out any echoes from background noise in the office and make the sound as clear as can be.
The 28 and 18 button Samsung Falcon Telephones also allow the possibility of attaching an add-on keyset or module. This allows the phone to be a multi-line phone and can easily connect with other lines or phones in the office.
Samsung Falcon Telephones are easy to use. The simplicity of these phones adds to the style of Samsung Falcon Telephones. Due to their simplistic use, Samsung Falcon Telephones look organized and lack the clutter that many other phones have.
Tags: refurbished phones, Samsung, Samsung Falcon