For All Your Phone System Needs
How Important Is A Phone System When It Comes To Customer Service?
Whether you're a business owner or a consumer, you understand how crucial great customer service is to the success of a business. As a consumer, no matter how exceptional the product or service, if the customer experience is poor, it's not likely that you will be a return customer. As a business owner, your goal should be to please the customer, with both quality products and service to match.
It's important for businesses to maintain a solid, stable communication system so that they can reach their customers, and customers can easily reach them. The best way to accomplish this is to invest in a business phone system. In comparison to typical residential phones, business phones are specifically tailored with features which will enable you to provide excellent customer service. Some of the benefits include, but are not limited to the following.
Number Of Lines
Have you ever called a company to be met with a busy signal, a voicemail, or extended wait times? With more lines, you'll be able to receive more customer calls and route them as necessary, resulting in increased efficiency.
HD Audio
The quality of a call can help to foster clear communication. If you can't hear the caller, or the caller can't hear you, it's likely that frustration will ensue from either party, which leads to a poor customer service experience.
Wireless Headsets
These allow workers to work on the go. For example, in retail shops, you'll need to be actively working the floor. If a call comes in, you can easily answer it through your wireless headset.
Cordless Handsets
Cordless handsets allow for the same flexibility. You may use these when you're on the move within the office so that no call goes unanswered.
Two-way Call Recording
With this feature, you may monitor and evaluate your employees and the services they deliver. You can identify practices that help or hinder your business, for improvement on all levels.
Auto-Attendant
Auto-attendant allows you to route calls accordingly without having an actual person pick-up the phone. This is helpful to relieve your receptionist, or allows for a helping hand when all other workers are busy with other calls.
As you can already tell, the appropriate business phones for your company will enable you to be the most productive while delivering the best customer service. Not sure what business phones will suit you best? Contact Startechtel.com and we'll gladly discuss your options and even provide you with a free quote. Feel free to browse our comprehensive inventory online, or speak with a representative directly by calling 1-800-564-8045. You may also connect with us on Facebook, Google+, Twitter, and Pinterest.
Summary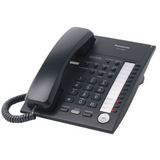 Author Rating





Brand Name
Product Name
Price
Product Availability
Tags: business phone systems, nec phone systems, office phone systems, panasonic phone systems, pbx phone system, phone systems, phone systems for small business