For All Your Phone System Needs
How To Set & Adjust The Ringtone On The Panasonic KX-T7630 Phone
Setting a unique ringtone on your phone allows you to distinguish phones and callers. To set the ringtone on the Panasonic KX-T7630 phone, follow these steps.
Begin by pressing the PROG softkey or the Program button. Next, you may either press the Intercom button twice or press a CO button twice. Then, select a ringtone by dialing a two digit number from 01 to 30. Once you have chosen a ringtone, you may press ENTER or the Auto Dial/Store button to save your changes. Lastly, to end your session, press the EXIT softkey or the Program button.
Want to adjust the volume? While the phone is on-hook or receiving a call, press the Up or Down button accordingly.
And that is how you set and adjust the ringtone on your Panasonic phone. Check out this and other video tutorials on our YouTube channel. You may also connect with us on Facebook, Google+, Twitter, and Pinterest for updates.
For an excellent selection of business phone systems and equipment, you may visit us online or call 1-800-564-8045.
Summary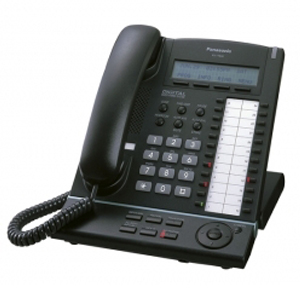 Author Rating





Brand Name
Product Name
KX-T7630 Speaker Display Phone
Price
Product Availability
Tags: panasonic business phone systems, panasonic business phones, panasonic kx t7630 manual, panasonic kx t7630 programming panasonic kx-t7630, panasonic kx t7630 set & adjust ringtone, panasonic phone systems, training videos, video tutorials