For All Your Phone System Needs
Happy 2017 From Startechtel.com!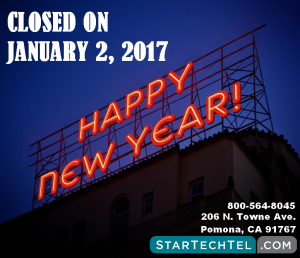 With 2016 coming to a close, we look back at the year fondly. It was a great year for us thanks to all of you. Your loyalty over the years has led to our successes and for that we sincerely thank you. We look forward to growing and improving with you in 2017.
Don't forget, we will be closed on Monday, January 2, 2017. We apologize for any inconvenience this may cause and appreciate your understanding.
Your friends at Startechtel.com wish you a Happy New Year filled with love, prosperity, and joy!
Tags: 2017, Happy 2017, Happy New Year from everyone at Startechtel, holiday weekend, new year, New Year 2017