For All Your Phone System Needs
Warm Wishes From Startechtel.com This Holiday Season!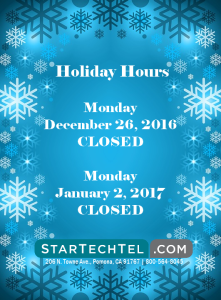 Here at
Startechtel.com
, we never take our customers for granted. We work hard to provide you with the best deals on quality equipment along with exceptional customer service. As we celebrate the spirit of the season, we want to express our sincerest gratitude for your continued support over the years.
In observance of the holidays, we would like to remind you that we will be closed on Monday, December 26, 2016 and Monday, January 2, 2017. We do apologize for any inconvenience this may cause and appreciate your understanding.
Happy Holidays from your friends at Startechtel.com. Wishing you a beautiful holiday season and a new year of peace and happiness!
Tags: Happy Holidays, Happy Holidays from everyone at Startechtel, holiday weekend