For All Your Phone System Needs
Call Handling On The Cisco 8841 IP Phone
If you're looking for a quality IP phone to add to your office, consider investing in the
Cisco 8841 IP phone
. Aside from being cost-effective for your business, workers will appreciate the comprehensive set of unified communications features and the ease of use. Learn how to handle calls on the Cisco phone by following these steps.
Place A Call
Dial a number and then lift the handset (or press speaker button).
Lift handset (or press New Call or speaker button) and dial a number.
Internal Calls (4 Digit Extensions)
Dial a user's 4 digit extension to call to an internal phone.
Local Calls
Long Distance Calls
Emergency (911) Calls
Dial either 2222 or 2226 (911 and 9+911 will be directed to 2222).
Answering & Ending A Call
Lift handset, press the Answer softkey or speaker button.
Hang-up handset or press the EndCall softkey to end a call.
Ignore A Call (Divert)
When the phone is ringing, but you want to send the caller directly to your voicemail, press the Decline softkey.
Redial A Number
Press Redial softkey.
Lift the handset and press the <Navigation> pad arrows to select a number from your call history.
Corporate Directory
Press Contacts.
Select Corporate Directory.
Select either First Name, Last Name or Number.
Enter the search criteria, press Submit, and select a contact.
Press Dial or Press Details to check user details.
Hold And Resume A Call
To place a call on hold, press Hold button.
To retrieve call, either press the Resume softkey or Hold button.
Transfer A Call
Verify that you are on an active call (not on hold).
Press Transfer.
Enter the transfer recipient's phone number.
Wait for the recipient to answer or skip to Step 5.
Press Transfer again.
Call History
If you have multiple lines, select a line to view.
Press Applications.
Scroll to Recents.
To dial from the list, scroll to a call and press Call.
And that is how you handle basic calls on the Cisco 8841 IP phone. If you have further questions, please see your System Administrator.
Get the Cisco 8841 IP phone and find more new and refurbished phones and equipment for affordable prices at Startechtel.com. For pricing and availability on specific products, feel free to contact us 800-564-8045. You may also connect with us on Facebook, Google+, Twitter, LinkedIn, and Pinterest.
Summary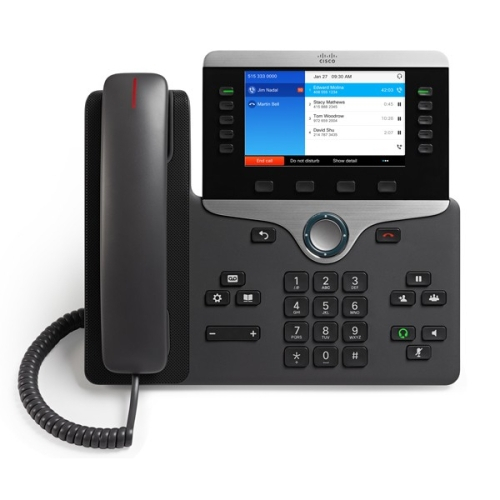 Author Rating





Brand Name
Product Name
Price
Product Availability
Tags: Basic call handling features, Call Handling, Cisco 8841 IP Phone, Features, Follow these steps, How to, office phones