For All Your Phone System Needs
Fall Sale On Refurbished Phone Systems & Equipment!
Fall has arrived and as the leaves are changing, so are our prices. During the month of October at
StartechTel.com
, an additional 10% will be deducted from all of our refurbished phone equipment, including
refurbished phone systems
and
refurbished business phones
.
Have you been hesitant to purchase additional equipment? Now is the perfect time to pick up a few refurbished business phones or refurbished phone systems at discounted prices.
Our refurbished phone equipment is always tested to ensure quality performance. When you order refurbished phone systems or refurbished business phones, they are pulled from our stock and tested for proper functioning. After displaying acceptable performance they are then packaged with care so that they're delivered to you in the best working condition. You may contact us should you encounter any problems.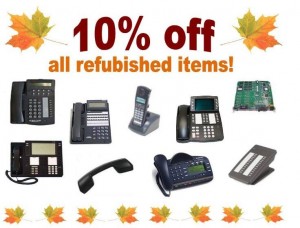 We carry a wide assortment of refurbished phone equipment. Choose from top manufacturers like Nortel, Cisco, Avaya, Toshiba, Panasonic and much more. Are you currently using older models and having trouble finding parts? Check in with us, we may have it or can help track it down for you. We will always do our best to give you the best deal.
The holidays are fast approaching and business will spike. Prepare yourself now by stocking up on refurbished phone systems and refurbished business phones. But hurry – our sale on refurbished phone equipment ends on October 31, 2013. Call or visit us online today – 1-800-564-8045 / StartechTel.com.
Tags: phone systems, refurbished business phones, refurbished phone equipment