For All Your Phone System Needs
How To Transfer Calls On The Toshiba DKT-2020SD Phone
Not sure how to transfer calls on your Toshiba DKT-2020SD phone? Check out our tutorial for step-by-step assistance.
If you're on a call and you need to transfer the caller to a different person, press the Conference/Transfer button while you're on the call. You'll find the Conference/Transfer button located below the keypad amid other fixed function buttons, and it will be labeled Cnf/Trn. After you've pressed that button, your line LED should flash green and you should hear an internal dial tone. You can then dial the extension to which you'd like to transfer the call. To announce the call, you may stay on the line, or to "blind transfer" you may simply hang up.
If the privacy option has been disabled on your Toshiba DKT-2020SD phone, and you use a Line button to transfer the call, the LED will flash a red light until the receiving party picks up. While the light is flashing, you may press the Line button to return to the call. When the party answers the line, the LED will turn solid red and you will not longer be able to connect to the original caller.
You can also connect all three parties during the call transfer by pressing your flashing extension button or the Cnf/Trn button. If the voice mail comes on, you may leave a message or you may hang up so that the caller may leave a message. A long single tone means that you may announce the call over the called person's telephone speaker.
Transferring a call with camp on is also an option. This simply means that if the station to which you want to transfer a call is busy, you may hang up and the transferred trunk or station will be camped on to the busy destination.
For transferring a call directly to voicemail, press the Cnf/Trn button while on the active call. Then enter #407 followed by the voicemail number, which is usually the same as the extension number, and finish by pressing #. The caller is then connected to the voice mail and you may hang up.
Any questions? Feel free to give us a call at 1-800-564-8045 or visit us online at Startechtel.com. You can watch this video, and our other tutorials, any time on our YouTube page. Hit subscribe and never miss a tutorial again! We're also on Facebook, Google+, Twitter, & Pinterest.
Summary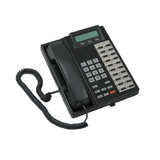 Author Rating





Brand Name
Product Name
Toshiba DKT-2020SD Phones
Price
Product Availability
Tags: How To Transfer Calls On The Toshiba DKT-2020SD Phone, Toshiba DKT-2020SD, Toshiba DKT-2020SD instructions, Toshiba DKT2020-SD Business Phone, Toshiba DKT2020-SD Display Phone