For All Your Phone System Needs
How To Place A Conference Call On The Intertel Axxess 550.4500 Phone
Do you own an
Intertel Axxess 550.4500 phone
? If so, do you know how to place a conference call on your phone? If the answer is no, Startechtel.com is here to help. Our latest
tutorial video
will take you through the steps of placing a conference call on your Intertel Axxess 550.4500 phone.
Before we begin, you will want to locate the Conference button, usually labeled [CNF], as it is pertinent to our demonstration.
We can begin with the first call. While on the line with the first party, press the [CNF] button or the CNF menu key to place the party on hold. Place the next call, and once that party is on the line, press either the flashing [CNF] button or the CNF menu key to place them on hold, also. You may repeat this step to add another line to the conference, up to three additional parties. When you are ready to join all the calls, press the flashing [CNF] button or the CONNECT TO CONFERENCE menu key.
Now that you're on the conference call, here are a few helpful functions:
Hold
To place the conference call on hold, simply press the HOLD button. This will place all the parties on hold while still connected. To return to the conference, press the flashing [CNF] button.
Drop Out
To drop out of a conference means that you will exit the call while the other parties remain connected. To do this, press the flashing [CNF] button and then hang up.
Add Additional Parties
If you have begun a conference call and find that you need to add more parties, you can do so by pressing the ADD PARTY menu key. Dial the phone number and once you are connected with the party, press the solidly lit [CNF] button twice, or press the [CNF] button once, then press CONNECT TO CONFERENCE, to rejoin the conference with the additional party.
End
This next step will end the conference call, but each party will be put on an individual hold. First, press the flashing [CNF] button then press HOLD. To speak to each line directly, either press HOLD or a flashing key.
Mute
If you want to listen to the call, but not be heard, you can mute your microphone. Simply press the [MUTE] button or the Mute menu key. Just remember to unmute when you need to speak.
Transfer
To transfer the conference to another extension or voice mail, press [TRANSFER] or the TRANSFER CNF menu key and dial the desired extension number. When you are ready to complete the transfer, just hang up.
If you have any questions, please call us at 1-800-564-8045 Monday-Friday 7:00am-5:00pm. You can also visit us online at Startchtel.com and browse our stock of new and refurbished business phone systems and equipment. Don't miss our next tutorial by subscribing to our YouTube channel. You may also find us on Facebook, Google+, Twitter, and Pinterest.
Summary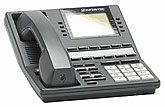 Author Rating





Brand Name
Product Name
Intertel Axxess 550.4500 Business Phone
Price
Product Availability
Tags: 550.4500, 550.4500 phone, intertel 550.4500, intertel axxess 550.4500, intertel axxess 550.4500 instructions, intertel axxess 550.4500 manual, intertel axxess 550.4500 user guide