For All Your Phone System Needs
Should You Let Someone Else Manage Your Phone System?
We've likely said this before, and will likely say it again, but a phone system plays a significant role in the success of a business. Whether small or large scale, analog, digital, or IP, a strong telecommunication system can make or break a company.
Starting a small business with an on-site business phone system is fairly practical considering budget and needs at start up. But once your business starts to grow and expand, you may consider switching to hosted services. Here's why.
Systems Are Complicated
It may sound appealing to learn how to manage, upgrade, and maintain your own phone system rather than having to call a technician whenever you come across a problem or hiccup. However, these courses can be time consuming and dense. While the courses can range from one day to up to a week of training, the hands on experience can be lacking. Don't get us wrong, managing your own system is feasible, but it might we easier and more convenient to have someone else manage your telephony.
On-Site Vs. Cloud
If your business is contained to one office, and has no immediate plans for expansion, an on-site system could work for you. However, managing your system off site, or in the cloud, could provide more benefits. You get virtually the same standard features, but cloud services offer a bit more edge. If you have more than one office, or plan on expanding in the future, a cloud service could easily control different branches remotely, and expanding your system becomes less complicated.
Own Or Rent?
Purchasing equipment can diminish your budget quickly, and equipment will eventually become outdated and decrease in value. If you're planning on managing your phone system and equipment in house and on your own, by all means, investing in a quality phone system is a smart move. But if you're not looking for a big commitment, why not rent a phone system as an ongoing service with an affordable monthly fee?
When it comes to phone systems, you have plenty of options. The hard part comes down to deciding what is best for you and your business. What works for you? Share with your insight with your peers and us on Facebook, Google+, Twitter, or Pinterest.
If you need help deciding on a phone system, visit Startechtel.com. Shop our stock of the best new and refurbished business phones, phone systems, and equipment. Or you can speak to a representative directly Monday-Friday 7:00am-5:00pm by calling us at 1-800-564-8045.
Summary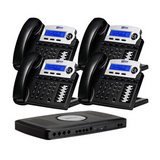 Author Rating





Brand Name
Product Name
XBlue Networks X16 Phone System Package
Price
Product Availability
Tags: business phone systems, cloud based phone system for small business, used business phone systems, voip business phone system, voip business phone systems