For All Your Phone System Needs
How To Adjust The Volume On The Aastra M8009 Phone
Do you own an Aastra M8009 phone? Want to learn how to adjust the volume controls? Let us take you through the steps to adjust the receiver and ringer volume on your Aastra M8009 phone.
Locate the volume bar just below the dial pad on your phone. If the caller's voice is too soft to hear, press the right side of the bar to increase the volume. To return the receiver to its normal volume setting, press the left side of the bar. The receiver volume will always reset to its normal setting after you hand up a call.
For the ringer volume, you may adjust it while the phone is ringing. You should find the volume wheel on the upper right side of your phone. There are four settings for the ringer volume: Loud, Medium, Soft, and Off. Loud is the top setting, and Off is the bottom setting. When you turn your ringer off, instead of a ringtone sounding when a call comes in, you will see the lamp on your phone flash.
That's it. Now you know how to adjust the volume on your Aastra M8009 phone. If you have any questions regarding these steps, please do not hesitate to contact us. You may visit us online or call 1-800-564-8045.
Be sure to subscribe to our YouTube channel so you don't miss our new video tutorials. While you're at it, connect with us on Facebook, Google+, Twitter, and Pinterest, too!
Summary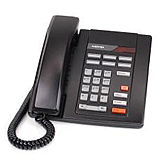 Author Rating





Brand Name
Product Name
Price
Product Availability
Tags: aastra 8009 user guide, aastra m8009, aastra m8009 phone, aastra m8009 user manual, aastra meridian m8009, meridian m8009 user guide, meridian m8009 user manual