For All Your Phone System Needs
Telephone Systems: Which Is Right For You?
Good communication is a large part of business and success. A solid
telephone system
is important for a business to reach customers as well as communicate and collaborate together. With different types of
business phone systems
on the market, you may not know which one to choose. Before you invest in a telephone system for your business, let us explain the types of phone systems available.
Single Line Systems
If you own a small business of less than 10 employees and you have a relatively low call volume, a single line analog telephone system should suffice. The single phone line will have a handset and a base, and more phones can be added to the single line. These systems can also be customized to include calling features such as call waiting or call forwarding, three way calling, voicemail, and more.
Cloud-based Systems
These phone systems offer much more versatility when it comes to management, access, and functions. Since the system is based in the Cloud, hardware installation at your business property is not required. The Cloud provides remote access, which means you can manage your phone system and access calls, messages, and more from different places.
Voice over Internet Protocol (VoIP) Systems
VoIP systems use the Internet to conduct communications and management. Because your phone and internet bill are consolidated, VoIP systems are usually a more affordable option. VoIP systems also have access to inexpensive local, national, and international communications, as well as more advanced features built-in to VoIP and softphones.
Hybrid Systems
These systems combine both analog and IP systems, providing the best of both worlds. With the benefits of an analog telephone system, along with the amenities of advanced IP technology, hybrid systems support a wide range of communication platforms and give businesses access to a variety of beneficial features and functions.
Private Branch Exchange (PBX) Systems
PBX systems are the most traditional of the different business phone systems. This consists of a private telephone network within a company where outside lines are shared to make external calls. Hardware usually managed on site and costs for a PBX are often higher.
Whatever telephone system you decide to employ, find great prices when you shop with us. Visit Startechtel.com to browse our wide selection of telephone systems, business phones, phone equipment and more. If you have any questions, contact us at 1-800-564-8045. You can also connect with us on Facebook, Google+, Twitter, and Pinterest.
Summary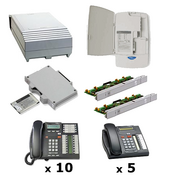 Author Rating





Brand Name
Product Name
Nortel Business Phone System Package #09
Tags: business phone systems, nortel phone systems, office phone systems, phone systems, phone systems for small business, small business phone system