For All Your Phone System Needs
How To Forward Calls On The Aastra 6757i Phone
For businesses, call forwarding helps to improve customer service. When a line is busy or there is no answer after a certain number of rings, the call is then forwarded to another line. This enables customers to be rerouted to the next available representative as soon as possible. Call forwarding also works with outside lines, allowing you to take work calls while you are on the field.
If you have an Aastra 6757i phone, learn how to activate and cancel call forwarding with these simple steps.
First, press the Options button located to the left of your keypad. An Options list will appear. Choose 1. Call Forward and press the Select button. The Call Forward Mode will appear with the following options:
All
Busy
No answer
Select your preferred mode then choose the 'State' of the forwarding, either On or Off. Then you may enter the phone number you wish to forward your calls to.
If All or No Answer is selected, you may set the '# Of Rings' which is how many times the line will ring before the call if forwarded. If Busy mode is selected, then it will forward each time the line is busy when a call comes in.
To turn off the Call Forwarding settings, simply repeat these steps and choose Off for the 'State'.
And that's how you use call forwarding on the Aastra 6757i phone. We are always adding new video tutorials so be sure to subscribe to our YouTube channel.
You may also connect with us on Facebook, Google+, Twitter, and Pinterest for updates.
For an excellent selection of business phone systems and equipment, you may visit us online or call 1-800-564-8045.
Summary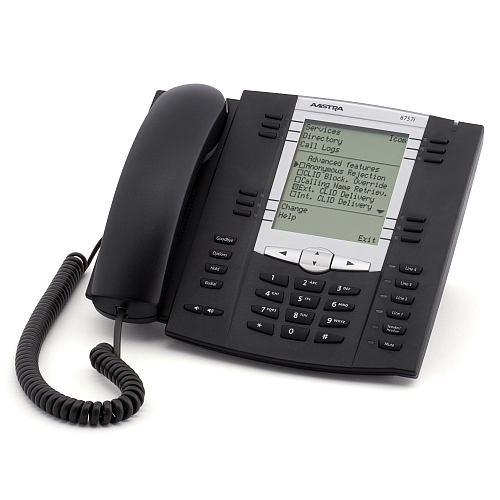 Author Rating





Brand Name
Product Name
Price
Product Availability
Tags: Aastra 6757i, Aastra 6757i manual, Aastra 6757i phone, Aastra 6757i programming, Aastra 6757i tutorial, aastra phone systems, aastra phones, business phone systems, call foward Aastra 6757i, Forward Calls On The Aastra 6757i, How To Forward Calls On The Aastra 6757i Phone