For All Your Phone System Needs
How To Place A Conference Call On The NEC DTU-32D-1 Phone
Placing a conference call on the NEC DTU-32D-1 display phone is easy. Simply follow along as we break down the steps for you.
Conference calls help to remotely connect you to other parties. This can save time and money, making it easy to collaborate with others, boosting productivity and efficiency.
Learn how to place a conference call on the NEC DTU-32D-1 phone by following these simple steps.
To begin, place or answer a call with the first party. While you are on the call, press the CONFERENCE key. You should hear an internal dial tone and then you may either dial the extension number or dial 9 plus the outside number of the party you wish to add. When the party answers, announce the conference and then press the CONFERENCE key to establish the conference.
Repeat these steps to add additional parties. The maximum capacity for conference calls is 2 outside calls or 3 inside calls.
And that is how you place a conference call on your NEC phone. We are always adding new video tutorials so be sure to subscribe to our YouTube channel. You may also connect with us on Facebook, Google+, Twitter, and Pinterest for updates.
For an excellent selection of business phone systems and equipment, you may visit us online or call 1-800-564-8045.
Summary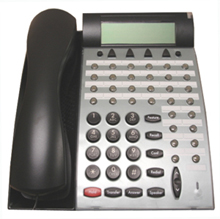 Author Rating





Brand Name
Product Name
Price
Product Availability
Tags: business phone, Conference call, nec dtu-32d-1, nec dtu-32d-1 manual, nec dtu-32d-1 phone guide, nec phones, Phone System, training manuals, training videos, video tutorials