For All Your Phone System Needs
Labor Day Special From Startechtel.com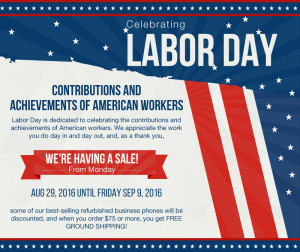 Labor Day falls on Monday, September 5 this year, but do you know why we celebrate?
The origins of Labor Day trace back to September 5, 1882, a day in which Union leaders organized a labor festival for workers to celebrate their efforts. While they were worried that workers would be hesitant to give up a day's pay to join the festivities, by the day's end, some 10,000 people had participated. The press would later deem it as "a day of the people."
Despite the turnout and its increasing adoption across the country, Labor Day was not an official holiday until President Grover Cleveland declared the first Monday in September a national holiday in 1896.
With Labor Day just around the corner, Startechtel.com would like to remind you that your hard work does not go unnoticed. To show our appreciation, we are offering discounted prices on some of our top-selling refurbished business phones. And when you spend $75 or more on our refurbished phones, you get FREE GROUND SHIPPING!
Prices start as low as $30 and include business phones from lead manufacturers like Nortel, Toshiba, Mitel, NEC and more. Choose from our Nortel Meridian M2616D Display phone for only $34 or our Mitel Superset 4025 phone for only $39!
Please remember that this offer applies to refurbished phones only. To redeem this offer, please call 1-800-564-8045 to place your order (offer not valid for Internet orders). You must mention the promotion when ordering. This offer is valid in the Continental U.S. only (excludes Hawaii, Alaska, & International customers). Lastly, this offer is based on website pricing only (prices subject to change), and may not be combined with any other offers.
Our Labor Day special goes on from Monday, August 29, 2016 until Friday, September 9, 2016, so be sure to act fast! Call 1-800-564-8045 to place your order today.
Tags: labor day deals, labor day history, Labor Day Sale, Labor Day Special