For All Your Phone System Needs
How To Use Speed Dial On The Allworx 9224 Phone
If you contact different numbers frequently, Speed Dial can come in handy. On the Allworx 9224 phone, instead of dialing the extension or phone number every time, Speed Dial allows you to call stored contacts by simply dialing a code. Find out how to set up and use the Speed Dial feature on your Allworx 9224 phone by following these steps.
Begin by pressing the CONFIG (Configuration) softkey. A menu will display on the LCD screen. Locate the Personal Speed Dial option and press SELECT.
Next, use the UP/DOWN scroll softkeys to choose a speed dial number. Choose the desired speed dial number and press SELECT.
Use the keypad to enter the phone number or extension. The DOWN softkey acts as a backspace. To add a one-second pause to the dialed number to wait for the auto answer systems to prompt for additional dialing, you may press the PAUSE softkey if one displays.  If it does not, you may press the HOLD button. You may enter multiple pauses as necessary. Once you have correctly entered the phone number or extension, press SELECT.
Lastly, use the keypad to enter a name for the speed dial. The # key puts a space between characters, and the DOWN softkey acts as a backspace. When you have finished entering the name, press SELECT.
To use a personal speed dial, pick up a line and press the SPDIAL (Speed Dial) softkey. Enter the speed dial number and the stored number or extension will be dialed.
And that is how you set and use Speed Dial on your Allworx phone. Check out this and other video tutorials on our YouTube channel. You may also connect with us on Facebook, Google+, Twitter, LinkedIn, and Pinterest for updates.
For an excellent selection of business phone systems and equipment, you may visit us online or call 1-800-564-8045.
Summary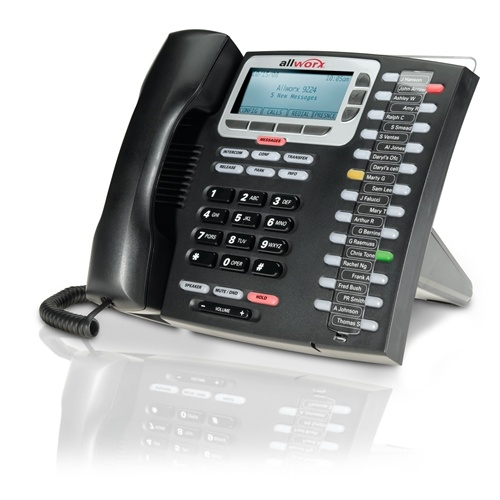 Author Rating





Brand Name
Product Name
Price
Product Availability
Tags: Allworx 9224 Phone, allworx phones, business phones, Personal speed dial, Set and use speed dial, speed dial, training video, video tutorial