For All Your Phone System Needs
How To Use The Intercom On The Allworx 9224 Phone
The Intercom button on the Allworx 9224 phone allows you to use the phone as an intercommunication system between two handsets. Any discussion through the intercom is not private, as the conversation is broadcast over the speaker of the receiving phone. The button turns solid green to indicate the feature is in use. To learn how to use the Intercom on the Allworx 9224 phone, follow these steps.
Start by lifting the handset or pressing the SPEAKER button. Next, press the INTERCOM button and dial the extension. The call connects when "Active Call" is displayed on the LCD screen. You may then start speaking. As mentioned, the conversation will transmit through the speaker on the receiving phone. To end the call, you may press INTERCOM or SPEAKER, or you may hang up the handset.
To deny an incoming Intercom request, press the IGNORE softkey.
And that is how you use the Intercom on your Allworx phone. Check out this and other video tutorials on our YouTube channel. You may also connect with us on Facebook, Google+, Twitter, LinkedIn, and Pinterest for updates.
For an excellent selection of business phone systems and equipment, you may visit us online or call 1-800-564-8045.
Summary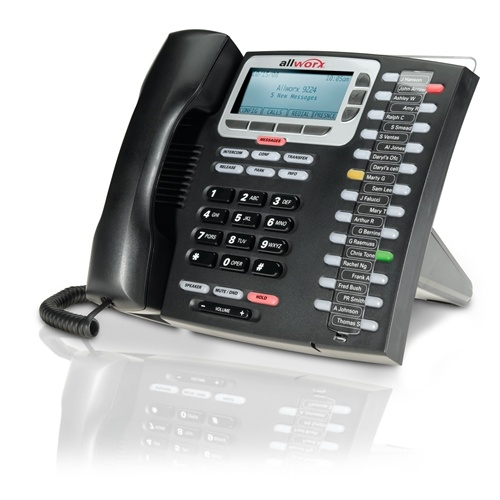 Author Rating





Brand Name
Product Name
Price
Product Availability
Tags: Allworx 9224 Phone, business phone, How to use the intercom, Intercom, Intercommunication System, training videos, video tutorial