For All Your Phone System Needs
How To Make A Conference Call On The Allworx 9224 Phone
The Allworx 9224 phone provides users with conferencing ability. With this Allworx phone, you may conference up to three parties (also known as a three-way conference). The Programmable Function Key (PFK) flashes green while making conference call connections, and turns solid green when the conference call is active. Please note that if you are using the Call Assistant recording feature, the PFKs flash red and green.
To make a three-way conference call, begin by connecting to the first person for the conference. Once connected, press CONF (Conference). Press another Call Appearance PFK and dial the number of the second person for the conference call. Once connected to the second person, press CONF and all three callers will join the conference. The CONF button turns solid green.
One party may hang up to exit the conference, leaving the remaining two parties connected on a regular call.
Splitting a conference allows you to have a private conversation with one of the parties. To split the conference, start by using the UP/DOWN scroll softkeys to select the Call Appearance PFK of the person. Next, press HOLD. The display will indicate the two parties involved with the conference. The Call Appearance PFK for the person on hold flashes. You may then speak privately to the remaining party.
To add the party on hold back to the conference, press CONF, and then select the flashing Call Appearance PFK. The three-way conference is then re-established.
And that is how you make a three-way conference call on your Allworx phone. Check out this and other video tutorials on our YouTube channel. You may also connect with us on Facebook, Google+, Twitter, LinkedIn, and Pinterest for updates.
For an excellent selection of business phone systems and equipment, you may visit us online or call 1-800-564-8045.
Summary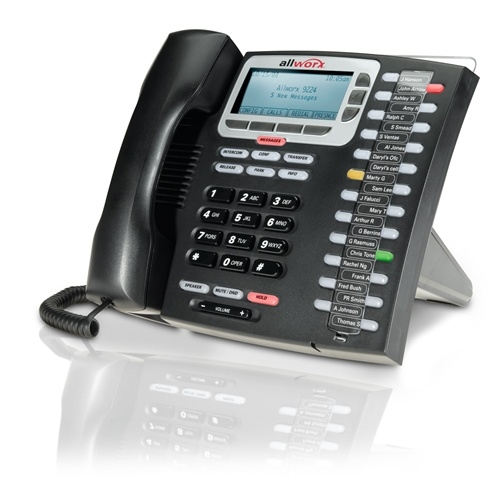 Author Rating





Brand Name
Product Name
Price
Product Availability
Tags: Allworx 9224 Phone, business phone, Conference call, How to Make a Conference Call, training videos, video tutorial