For All Your Phone System Needs
How to Use The Hold Feature On The Allworx 9224 Phone
The Allworx 9224 phone offers convenient and easy-to-use features suited for most business offices. Placing a call on hold is one of the most common features, and is very helpful in busy environments. To learn how to use this feature on the Allworx 9224 phone, please follow these steps.
Please note that for Line Appearance, by default, the HOLD button first starts flashing green to indicate a call on hold. To indicate a Parked Call, continue pressing HOLD until the Programmable Function Key (PFK) no longer lights.
In addition, if the Allworx Server Administrator enables the Music On Hold feature for the call appearance, the callers on hold will hear music.
To place a call on hold, press the HOLD button, and the button will become solid red. Place the handset on hook. The Call Appearance PFK for the held call blinks green until the user picks up the call again.
To take the call off hold, pick up the handset. If more than one call is on hold, the most recent call connects. The caller ID of the call picked up will display on the screen.
To pick up a different call on hold, press the flashing PFK for that call or use the UP / DOWN scroll softkeys to display the call on screen, and then pick up the headset.
If there is a call on hold and a new call comes in, you may lift the handset to answer the new call.
When you are finished, hang up the handset.
And that is how you use the Hold feature on your Allworx phone. Check out this and other video tutorials on our YouTube channel. You may also connect with us on Facebook, Google+, Twitter, LinkedIn, and Pinterest for updates.
For an excellent selection of business phone systems and equipment, you may visit us online or call 1-800-564-8045.
Summary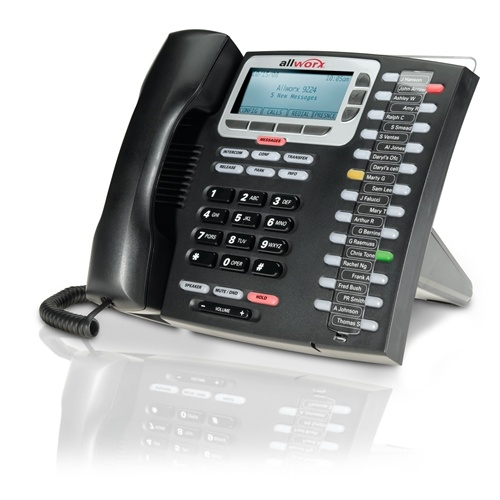 Author Rating





Brand Name
Product Name
Price
Product Availability
Tags: Allworx, Allworx 9224 Phone, allworx phones, training video, video tutorial