For All Your Phone System Needs
Basic Call Functions Of The Mitel 5330E IP Phone
The
Mitel 5330E IP Phone
boasts a large backlit display with auto-dimming, along with 24 programmable, multi-function, self-labeling keys. This enterprise class telephone is ideal for businesses that experience large call volumes and rely on telephone communications to connect with clients and customers. If you are looking to upgrade or replace your current business phones, the Mitel 5330E IP phone is a smart choice. Learn how easy it is to answer and make calls on this Mitel phone by following these steps.
Answering Calls
Lift the handset or press Speaker to answer a call while using a headset or to answer a call in Handsfree Mode.
Placing Emergency Calls
Dial the emergency number (911 U.S. or 999/112 Europe). The system immediately places the emergency call as soon as you dial the number, even if you do not select an outside line.
Placing Internal (Intercom) Calls
With or without the handset lifted, dial the extension number. If you enter incorrect digits, you can press Hold to move the cursor backward, deleting the last digits entered. If you are using Handsfree Mode, listen for the double tone, and then begin to speak.
Placing External Calls
Press the Outgoing button, and unlit Call button, or enter the Outgoing Call access code (8 is the default code), and then dial the number.
Redialing External Numbers
With or without the handset lifted, press Redial. The system automatically selects a line and dials the number.
Transferring Calls To Other Extensions
While on the call, press Transfer, and then enter the extension number. Then you may do one of the following:
Wait for an answer, announce the call, and then hang up. If the extension is unavailable, press the flashing IC or Call button to return to the caller.
Hang up to transfer the call and disconnect the call from your IP phone.
Forwarding Calls
Press the Fwd button, and then enter the feature code, if applicable. "ENTER FORWARD DEST" appears.
Enter the extension number, or press the Outgoing button or enter the Outgoing Call access code (8 is the default code), and then dial the telephone number.
And that it's it! If you have any further questions, please see your System Administrator.
For affordable prices on Mitel phones, like the Mitel 5330E IP phone, and other quality business phones, please visit Startechtel.com. For the latest news and updates, connect with us on Facebook, Google+, Twitter, LinkedIn, and Pinterest.
Summary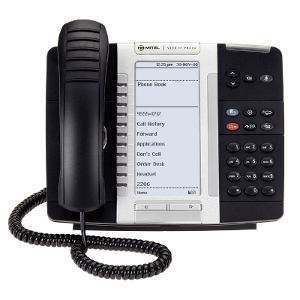 Author Rating





Brand Name
Product Name
Price
Product Availability
Tags: Basic call functions, How To Make Calls, IP Phone, Mitel, Mitel 5330