For All Your Phone System Needs
Holiday Cheer at the Pomona Chamber of Commerce Luncheon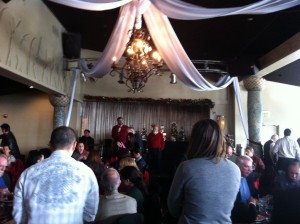 The Pomona Chamber of Commerce held a Holiday luncheon for its members and was quite an exciting experience. It was held at the Coco Palm Restaurant in Pomona, California. As always the authentic Cuban food was incredibly tasteful and the service was excellent. The ambiance, however, was different than the usual luncheons. The atmosphere this month was festive and full of Christmas cheer. We were greeted by Santa Claus at the door and as we entered the banquet room we noticed it was incredibly adorned with Christmas decorations. A Chamber of Commerce representative introduced herself as she took us to our table. As we made our way to our seats, the room was already beginning to fill up with a large crowd of people and lively holiday music. Guests were welcomed by a guitar player by the name of Ryan Seward while there was some time to network with fellow attendees. As we headed toward the buffet line, we also came into contact with a couple of neighboring companies who seemed interested in our business and what we do. During lunch we had the privilege to sit and eat while being serenaded with the lovely voices of The Repertory Opera Company who sang Christmas carol favorites including Carol of the Bells and The Twelve Days of Christmas. Members of the Pomona Chamber of Commerce raffled off 10 Christmas trees that were donated by the sponsoring businesses that each contained prizes including spa treatments, gift cards/gift certificates to various restaurants and retails stores and even $100 in cash.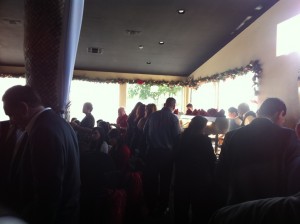 One of the many highlights of the event was being able to speak with Pomona City Councilman Stephen Atchley after he took the stage to speak on behalf of his district, to wish everyone a happy holiday. In addition, we were able to speak and network with multiple representatives of the many companies in attendance. Although we would have liked to talk to every one of the 220 people that attended the popular event we are looking forward to our next luncheon to continue making business connections.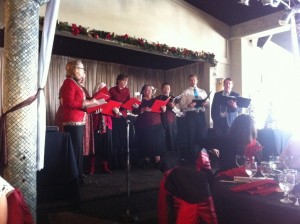 As the president of the chamber of commerce concluded the event, he spoke briefly over the great success he has had this year and forecasts of the future of the organization. This event was very entertaining and gave us a great opportunity to introduce ourselves on a more personal level with other businesses. We were able to connect and make great contacts that may need our services in the near future and vice versa. It was a fun and productive holiday lunch opportunity. We took advantage of getting the name of Startechtel.com out among the local businesses of our community, and plan to follow up on contacts that we made. We will continue to make our presence known at future luncheons and will represent more of what we do here at Startechtel.com to the current and future Pomona Chamber of Commerce members. We would like to thank the Pomona Chamber of Commerce and the Coco Palm restaurant once again for another delightful luncheon and putting on the great event.
Tags: Business Exposure, Business Networking, Community Events