For All Your Phone System Needs
Nortel T-Series Phones Provide Quality and Clarity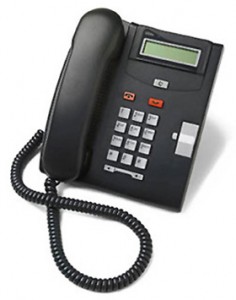 Technological advancements has allowed society to communicate with one another in an instant. Whether it be through text or speech, we are given the ability to express our thoughts and visions.
Nortel T series
provides us with a microphone and speaker that allows a voice communication medium to convey directions and useful information with the affinity of voice clarity and a background noise reduction. Nortel's variety of phones accommodates to your personal or business needs. It is financially affordable and allows you as an individual or company to network, spread ideas, and promote effectively without being alienated from the rest of the world, underestimated, nor overlooked. On the contrary, it allows you to expand and reach out to society to fulfill your mission.
Has it ever happened to you when you are in the middle of an important conversation and the call is dropped or you hear that buzzing sound in the background that distracts you from processing your thoughts? Well, Nortel T Series is the way to the North star. One should be able to amplify the synchronization of the sound of their voice, not deteriorate it. Many case studies have shown that one's tone of voice is an art of persuasion. It is one of the few contributing factors to your first impression aside from your vocabulary when you are communicating through a phone. At that point you are incapable of alluding society with your glamour and smile. So, don't you desire to make the best first impression you can make through a simple device. Your voice is one of the most powerful devices you can use to entice your clientele. So why not invest in a product that guarantees you the affinity of your voice to make your point known.
The Nortel T series habituates to your needs. Whether you need a phone to put your vast amount of customers on hold or want a single line phone to have a more intimate relationship with them to provide them with the best service, it is up to you! Nortel T series will give you the option to pick from its wide selection from cordless to stationary phones -all depending upon your environment. Some prefer a cordless phone to avoid the chaotic notion of having to run all over the place to answer a phone or a stationary phone to maintain a well organized work space. Nortel T provides you with an array of products to satisfy its customers and make sure that you as a company or individual do not feel or make your clientele feel isolated.
Nortel's T series is devoted to its product's quality and affordability. It is devoted to providing you with an essential component of professional success – interpersonal, inter-group, intra-group, organizational, and external levels.
Tags: Nortel Networks, Nortel T-series