For All Your Phone System Needs
Polycom Soundstation 2 Phones – Quality Conference Phones
With decades of experience and innovation under their belt, Polycom has proved to be an excellent telecom brand. Started in 1990 with the determination to transform the speakerphone into a valuable business tool, Polycom now provides video and voice solutions for countless businesses.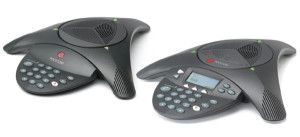 The popular Polycom Soundstation 2 line is comprised of analog conference phones suited for small to mid-sized conference rooms (up to 10 participants). Many businesses have already reaped the benefits of this outstanding conference phone. The Polycom Soundstation 2 upholds the Polycom reputation, delivering a beautiful design that houses quality and convenience.
With Polycom Acoustic Clarity™ technology, voice quality and clarity is improved, allowing your conference calls to run smoothly, boosting productivity and performance. With Dynamic Noise Reduction (DNR) and full duplex abilities, background noise, clipping, and drop-outs are eliminated while users can be heard from up to 10 feet away. Interference from mobile phones or other wireless devices is eradicated so that no technical distractions are present for your conference calls.
Flexibility is another advantage that the Polycom Soundstation 2 has over other competitors. With expansion microphones (supported by the "EX" model), the Soundstation 2 is able to function brilliantly in medium-sized conference rooms, picking up voices up to the far corners of the room while cutting background noises. You can also connect the conference phone to a mobile phone for remote calls or a computer for Internet calling. And since it's an analog phone, it connects to any standard analog telephone line for easy installation. For models with a backlit display, call information and menu options are conveniently shown.
Aside from the basic functions, the Polycom Soundstation 2 conference phones offer so much more. With a user friendly design and price, they are a smart investment for your company.
Shop our selection of Polycom Soundstation 2 conference phones and more online at Startechtel.com. To speak with us directly, you can reach us Monday-Friday 7:00am-5:00pm at 1-800-564-8045. You can find us on our social networks, too – Facebook, Google+, Twitter, and Pinterest.
Summary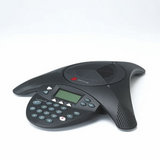 Author Rating





Brand Name
Product Name
Polycom 2200-16200-001 SoundStation 2
Price
Product Availability
Tags: polycom soundstation, polycom soundstation 2, polycom soundstation 2w, polycom soundstation 2w ex, polycom soundstation duo