For All Your Phone System Needs
Why You Should Invest In A Business Phone System
These days, it seems we have abandoned the traditional phone call for more convenient means of communication. With email, text, and social media so easily accessible, is the
phone system
no longer relevant for businesses?
It's true – as our means of communication evolve, companies should take advantage of all the different outlets to reach their customers. However, the phone call is still a driving force when it comes to businesses and should not be abandoned.
A phone system can be a great benefit to your business. Whether you go with a traditional phone system or a VoIP phone system, you'll reap the benefits with features like voicemail, call forwarding or internal transferring, conference calls, intercom, and more.
A traditional phone system consists of either individual phone lines or a private branch exchange (PBX) system. The PBX system helps to integrate the office, however, with more advanced features comes a higher price.
A somewhat more affordable option is a VoIP system. Your costs include your equipment plus a relatively low monthly fee. Paying monthly makes a VoIP phone system much more flexible, and most providers price based on the number of lines you employ.
Phone systems have done a great job of keeping up with consumer demands, offering great mobility, portability, flexibility, and practicality for employees. Workers can now have calls forwarded to their smart phones, as well as make calls from their personal smart phone under the company phone number, making it easier to work and travel. Easy access to your phone system dashboard allows you to control and adjust the way your system works as often as you please.
With such excellent and convenient features that incorporate your personal devices, there's no doubt that businesses can still benefit from phone systems. If you need help finding the right system for you, please visit Startechtel.com or give us a call at 1-800-564-8045 and we'll be more than happy to help. You may also find us on Facebook, Google+, Twitter, and Pinterest for special news, updates, promotions, and more.
Summary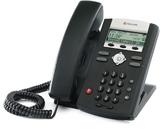 Author Rating





Brand Name
Product Name
Polycom VOIP Business Phone
Price
Product Availability
Tags: voip business phone, voip conference phone, voip home phone, voip phones, what is voip phone