For All Your Phone System Needs
How To Change The Extension Password On The Comdial DX-120 Phone
Security is important in all aspects of your life. Whenever you are given a default password for a system, it is strongly advised to change it as soon as possible. This helps to protect your system from unauthorized access from outside parties.
For the Comdial DX-120 phone system, each extension has its own password. These extension passwords are used to access Phone Lock, Call Forward Remote, and Attendant features. Do you have a Comdial DX-120 phone? We can help you change your extension password – just follow these steps.
Before we begin, if this is the first time you are changing your extension password, you will need to know the default password. The default password for extension 101 is 9999, and for all other extensions, the default password is 0000. Because your extension password grants you access to important features and functions, it is important to change it something that is difficult to guess but easy for you to remember.
The first step to change your password is to press FEATURE 97. Your display will then show "PSWD:_" and the soft key functions will be bksp (backspace), show, and chg (change).
You will then input your current password, which may be the default password if you have not changed the password before. Your display will then show "LOCK PHONE" with the softkey options of pswd (password), yes, and no.
Press pswd, and the display will change to "N PSWD:_" with softkey options of bksp (backspace), save, and chg (change Input your new password and then press save.
And that completes the process of changing the password on your Comdial DX-120 phone. Simply follow these steps again if you need to change your password in the future.
For an excellent selection of business phone systems and equipment, you may visit us online or call 1-800-564-8045.
We are always posting new video tutorials so be sure to subscribe to our YouTube channel. You may also connect with us on Facebook, Google+, Twitter, and Pinterest for updates.
Summary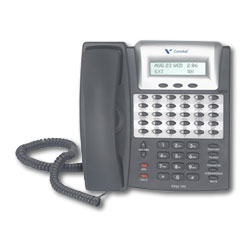 Author Rating





Brand Name
Product Name
Price
Product Availability
Tags: comdial 7261, comdial 7261 dx-120, comdial 7261 dx-120 manual, comdial 7261 dx-120 phone, comdial dx-120, comdial dx-120 phone, comdial phone manual dx-120, How To Change The Extension Password On The Comdial DX-120 Phone