For All Your Phone System Needs
The Resilient Desk Phone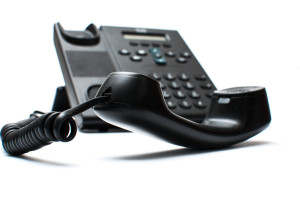 Whether you like it or not, the
desk phone
has been an essential component in office settings for years. And despite the introduction of email, text, and BYOD programs, the desk phone has prevailed. Find out how the desk phone is standing its ground in the ever-changing world of communications.
Challenges
The desk phone is fighting an uphill battle. There are more millennials in the workforce now and they are accustomed to communication via mobile, email, social media and messaging. Because of this, these communication methods are expected in the workplace. Plus, the implementation of BYOD programs allows for employees to remain easily connected, even when out of the office.
As this continues, experience with desk phones will continue to decrease. In fact, according to a study conducted by Fuze (a business communications provider), only 2% of teenagers use a landline more than once a month.
Reliability
Despite the aforementioned challenges, desk phones still provide the best reliability and performance, and therein lies their strength. Desk phones are readily available, enable instant connectivity, and are the better choice when it comes to longer phone calls which require voice quality and consistency.
Furthermore, when emotions run high, direct voice communication is important. Picking up the phone and calling someone increases understanding and empathy, and minimizes the chances of miscommunications. That direct connection between two parties encourages personable relationships which can lead to better business and success.
Adaptations
Desk phones have developed over time to meet the growing need for newer, more advanced features and functions. These days, desk phones are smarter and allow for more flexible working environments. The most significant advancements with IP phones seem to be the improved network power and processor capabilities, along with seamless integration with other devices.
Rather than replacing your desk phone with your smartphone, modern IP desk phones can actually complement communications. Built-in unified communication features enable mobile, collaboration, video capabilities, and smartphone integration. This allows you to utilize high quality audio from your desk phone for a smartphone call, or transfer a call from your desk phone to your smartphone if you're on the go. Some modern desk phones also feature a touchscreen, customization, and the use of apps, which offers a more familiar interface.
While traditional desk phones are not gaining momentum, newer, more advanced desk phones are evolving to remain relevant and useful within businesses. We have yet to see if the next generation of workers will keep the desk phone tradition alive or nix it for their own devices.
What are your predictions? Share with us on Facebook, Google+, Twitter, LinkedIn, and Pinterest!
Choose Startechtel.com for all of your IP business phones, conference phones, and phone system needs. Call 1-800-564-8045 to speak with us directly.
Summary
Article Name
Description
Regardless of new methods of communication, the desk phone has prevailed thanks to evolving technologies and adapting to consumer needs.
Tags: communication, Desk Phone, Desktop Phones, IP Phones