For All Your Phone System Needs
How To Program A Feature Button On The Avaya Merlin BIS-10 Phone
Some features on the Avaya Merlin BIS-10 phone are available but not programmed onto a button. By programming a Feature button, you are allowing access to different features. To learn how to program a Feature button, follow these simple steps.
Start by labeling a button as "Feature". Next, slide the T/P switch to P. Then press the labeled button and dial *20. And lastly, slide the T/P switch to the center.
After you have programmed a Feature button, you can use a feature by pressing the Feature button and dialing the appropriate feature code.
And that's it! Check out this and other video tutorials on our YouTube channel. You may also connect with us on Facebook, Google+, Twitter, LinkedIn, and Pinterest for updates.
For an excellent selection of business phone systems and equipment, you may visit us online or call 1-800-564-8045.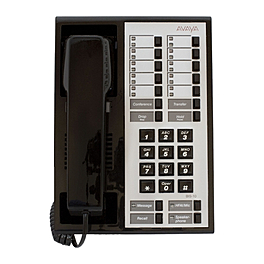 Author Rating





Aggregate Rating
no rating
based on
0
votes
Brand Name
Product Name
Price
Product Availability
Tags: Avaya Merlin BIS-10 Phone, Avaya phones, Feature Button, How to program a feature, training video, video tutorial