For All Your Phone System Needs
How To Make A Paging Announcement On The Comdial Impact 8012S Phone

Not sure how to make a paging announcement on your Comdial Impact 8012S phone? Watch our tutorial video that will guide you through the simple steps.
First of all, you should know that there are two types of page features available on the Comdial Impact 8012S phone.  The first is the all-call paging feature, which sounds the announcement through all telephones. The second is the zone paging feature, which only sounds the announcements through the telephones in a designated area. Your System Administrator will have more information about zones, preprogrammed Page buttons, and which paging and access method is best for you.
Now, to send a paging announcement, lift the handset and press the Intercom button. Next, you will dial a number based on the zone you would like to page. Zones 1-8 are designated by the numbers 70-77. For example, for zone 1 = dial 70, zone 2 = dial 71, zone 3 = dial 72, zone 4 = dial 73, and so on. Again, for zone assignments, please see your System Administrator. If you have preprogrammed Page buttons, you may use those instead of the zone codes.
After inputting either a zone code or pressing a preprogrammed Page button, you may then make your announcement by speaking into the receiver. Once you are done, you may hang up, or wait on the line for a Meet-Me page.
The Meet-Me page allows the announcer to request a person dial in to "Meet" them on the line. If you need to reply to a Meet-Me page, find the nearest telephone and lift the handset. You will then press the Intercom button, dial 78, and you will be connected with the paging party.
And that's it. If you have any questions, please call us at 1-800-564-8045 or visit us online. Subscribe to our YouTube Channel so stay up-to-date with our video tutorial series. You can also connect with us on Facebook, Google+, Twitter, and Pinterest.
Summary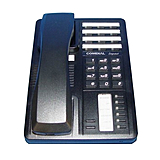 Author Rating





Brand Name
Product Name
Price
Product Availability
Tags: Comdial 8012S, Comdial Impact 8012S, comdial impact 8012s manual, comdial impact 8012s phone, comdial impact 8012s user guide, comdial impact phones, how to page comdial 8012s