For All Your Phone System Needs
How The Polycom SoundStation Changed Conferencing
The introduction of the
Polycom SoundStation conference phone
had a significant impact on the telecom industry. These days, thanks to numerous advances in technology, we have a bevy of collaborations tools at our fingertips, making communication more convenient. However, not too long ago, this type of collaboration was limited to old-fashioned telephony. It wasn't until the early 1990s, when Polycom introduced the SoundStation, that things began to change.
The SoundStation was Polycom's first speakerphone and emerged in a time where videoconferencing over dial-up phone lines was the way to collaborate. Also during this time, speakerphones did not allow more than one person to speak at a time, and thus, forced users to be close to the device.
Since most other companies were focused on videoconferencing, Polycom decided to target audio systems and create a new kind of speakerphone. This venture began with an open-air conference system, which focused on a single-user conference system that could be used in an office and connected to a telephone through the handset.
Because Polycom wanted to achieve "real transparent audio performance" they needed acoustic echo-canceling technology, which, at the time, was still in its infancy and required extensive digital signal processing. This technology would essentially build a room model to figure out what the echoes will be in order to predictively cancel them out before they reach the microphone. Because of the complex nature of this technology, the echo-canceling speakerphones on the market were more expensive, but Polycom wanted to offer a more affordable option with better performance.
In 1991, Polycom decided to transform its single-user device into a group-based system, which then became the SoundStation. Formally introduced in 1992, the SoundStation used full duplex technology, allowing more than one person to speak at a time. While competitors had good features, such as buttons for echo-canceling, the SoundStation performed echo-canceling on its own. The fact that the SoundStation could automatically and continuously recalibrate itself put it ahead of the others.
Over time, the need for speakerphones with clear audio increased, allowing Polycom to flourish. Technological advancements have enabled the SoundStation to improve and offer more diverse features and quality performance.
For more information on Polycom and the business and conference phones we offer, please visit Startechtel.com or call 800-564-8045. You can also connect with us on Facebook, Google+, Twitter, LinkedIn, and Pinterest.
Summary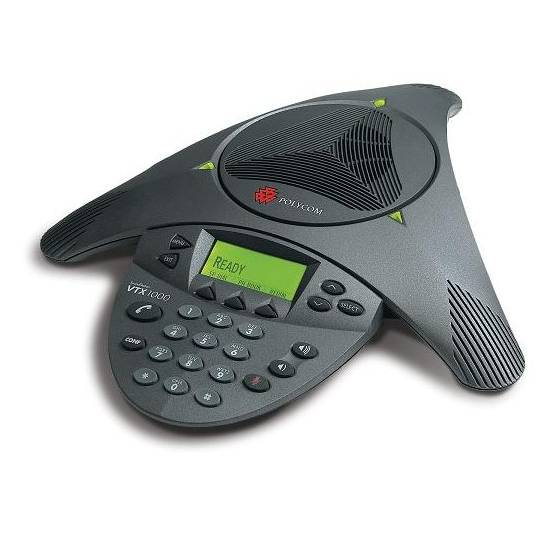 Author Rating





Brand Name
Product Name
SoundStation VTX1000 Conference Phone
Price
Product Availability
Tags: communication, conference phone, Effective & Efficient, group-based system, polycom soundstation, Telecom, Telephony